Today we launch our 2017 crowdfunder for a new poetry collection of starlings and socialism in praise of the Rebel Sun.
Sophie McKeand is an award-winning poet from north Wales with a love for exploring different ways to create poetry. Following the success of our 2016 crowdfunder for Cawl by Siôn Tomos Owen, this crowdfunder is to raise funds to cover production costs through pre-orders for a beautifully produced hardback first edition of Sophie's first full collection Rebel Sun with additional perks from arty postcards to live recordings or a spoken word gig in your own house! 
Young People's Laureate Wales April 2016 – 2018
Winner of the Out Spoken award for Innovation in Poetry 2015
Longlisted for the Poetry Society's National Poetry Competition in 2014
What they say about the Rebel Sun poems:
'Sophie McKeand is a force. Her 'heart is anchored' in the nature and topography of North Wales. She is intimately engaged with the elements and agents which form landscape.  Sophie 'speaks hurricanes' and lakes, rain and rocks. In performance and on the page she understands rhythms and controls tides of feelings. Sometimes her images are as sharp and exact as cut slate; other times she glides on experimentation. She has a deep concern for people in danger of alienation and animals threatened with extinction. And she loves lurchers!' – Chris Kinsey
'Sophie joined us on stage at The Good Life Experience in 2016, where she captivated the audience with her profound, mythological, musical poems that not only crossed borders but seemed to dismantle them entirely, collapsing time and space and merging visions of the past with narratives of the personal.' – Caught by the River
'A firecracker of a collection. Ideas explode off the page, words pop and fizzle, language and form are ignited and illuminated with the ingenuity of McKeand's searingly bright imagination.'' – Kaite O'Reilly
Sophie says:
'I wanted to create a collection speaking of socialism & starlings, that sings the praise of the Rebel Sun who recreates the world every day so that at any time we can cast off the past and do the same. These poems dream of the fluidity & politics of time & place, map mountain & mind; talk of knitting together people & communities. Afterwards comes the slow unravelling - the compulsion to let go, transform & shape-shift; slowly unwind roots from the earth; grow fin & feather; know water & sky.
'This is the first time I will work with a publisher and I approached Parthian Books because they understand the artistic vision and because  have a lot of respect for their editorial team as well as the artists they've supported and publications they've created over the years.
'The previous pamphlets (Prophecy and Hanes) and the album (DRKMTR) were limited-edition and hand-crafted but after a combined total of nearly 1000 units my fingers are sore so I felt it was time to upgrade, while still finding a way to make the publication memorable. This is why I'm delighted that Andy Garside is again making the work look gorgeous – I love the cover artwork and it's had some really positive response already.'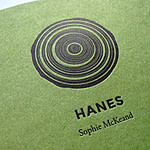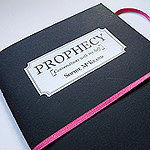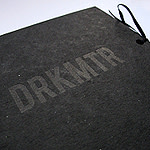 Images of Sophie's previous pamphlets
'As usual we still wanted to do something a little different and extravagant with the book so a crowdfunder will also help towards the cost and prevent Parthian from having a heart attack. I hope the work created will stand the test of time and being enfolded beautifully like this makes all the difference – I only want to work with beautiful things.'
Touring
'We're selling up to live in a van within the next 12 months and this collection is an exploration of why this is, with a strong socialist/Marxist undercurrent. It would be great to have a lovely book to take on tour across the UK and Europe to promote Welsh poetry and my work.'
'If you've dropped by and don't fancy buying anything but like the idea of this please share the page on social media and with your friends. This collection is experimental in parts and more lyrical in others because that's the way I see the world and I hope you enjoy experiencing life through my eyes for a time.'
More about Sophie's work is here: www.sophiemckeand.com
And about their vanlife here: www.theabsurd.co.uk