writers on tour

RSS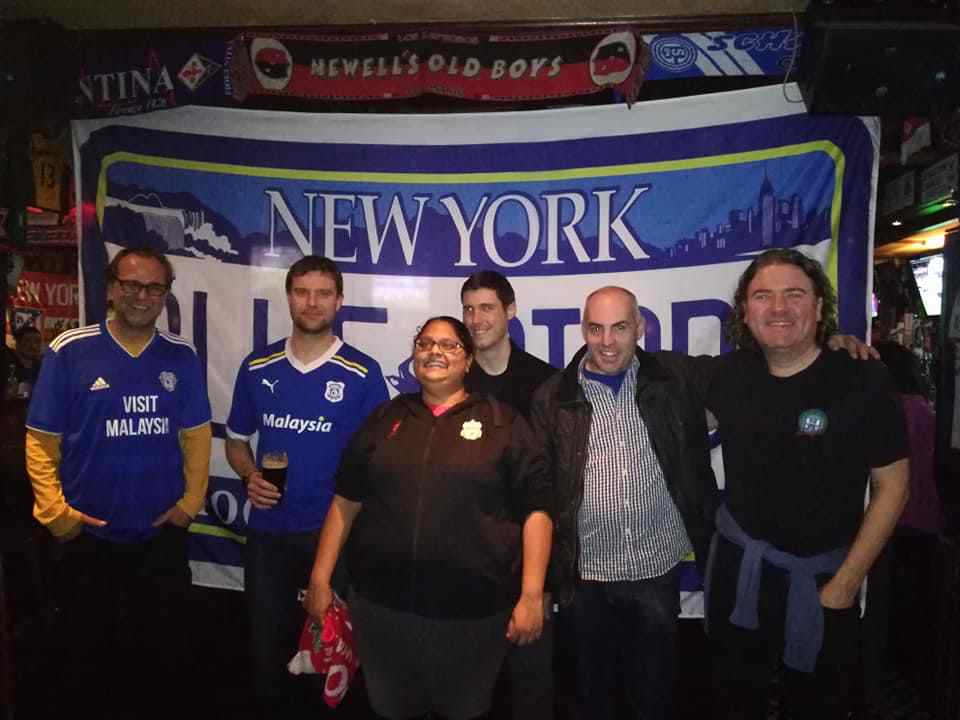 I think it was about 9.30am when we arrived at The Football Factory, the venue where we'd be meeting up with fellow members of the NY Bluebirds, to watch the match, and then for me to do a little launch afterwards.
Bar manager Jack was a friendly guy and insisted on the first drinks being on him. I ordered some pancakes, and these arrived in time for the kick off of the Liverpool v Cardiff match and were quite tasty. Other members of the NY Bluebirds started arriving and Lloyd introduced me to them all. They were all much younger than I'd imagined. Don't know why, but I think when Lloyd had told me in advance that most of them were married with kids, I'd pictured them being older.
We were also joined by a couple of Middlesbrough fans who'd watched the match that had been on before ours (God knows what time they'd have had to get up for their game). It wasn't looking very likely that we were going to get much out of this game, especially after Mo Salah got the early opening goal. However, people mostly remained in good spirits, and at half time, I was introduced to a NY Bluebird ritual.
They have a copy of Craig Bellamy's autobiography, which is signed by all kinds of people who have ever visited the bar, Cardiff fans, and I think, also some fans of other clubs. The ritual involves somebody, in this case, first of all, Luke, who was due to be moving back to the UK shortly, reading a paragraph from the book, while fellow fans kneel before the reader. The next thing, everyone launches into the following chant: "Bellamy! Bellamy! He plays for Cardiff City and he's back in time for tea!" A bit bizarre, but enjoyable enough, and I was also encouraged to read a paragraph as a fledgling member of the group, to the same reception.